Percy Weston has been a farmer for much of the past century in the beautiful Ovens Valley of south-eastern Australia where his grand-parents settled during the goldrush. The family homestead, Riltrin, which he built himself, has views of Mount Buffalo and the Victorian alps. This haven of horticulture, with extensive nut grove, green orchards, vegetable garden and paddocks of grazing sheep, has its own spring-water supply. At one time he grew tobacco in the valley.
A scholarship Percy Weston won as a boy gave him a grounding in the sciences . . . which would have led to a medical career had his father not suffered hardship at the hands of daring cattle thieves. On the farm our author found himself having to study nature closely and follow the practices of his pioneering parents in order to keep his crops, livestock and family healthy.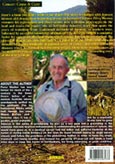 Back cover
Look inside this book
His life-long study of food and chemistry and keen observations during a century of dramatic change on the land led him to a remarkable discovery: a causative factor for cancer which science has overlooked. He proved it first in sheep in the 1940s, and then in humans by several times curing medically diagnosed cases of cancer and other common diseases which he realised had the same origin. These were miracle cures as far as doctors were concerned. How did he do it? Cancer: Cause & Cure is the enthralling story of one man's unique journey of discovery.